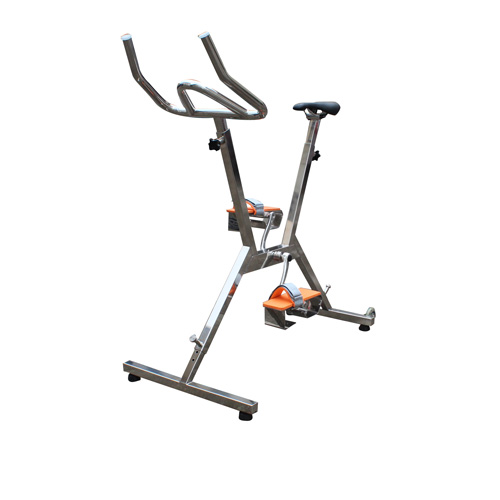 Name:Pool Side Equipment-stainless steel underwater bike
The Bike is a unique aquatic indoor stationary bike made out of stainless steel which allows you to pedal while immersed in the water taking advantage of the many benefits of the aquatic environment. The all in one:- Swimming, working-out, riding a bike and aqua-fitness. An exclusive resistance system. such as type used on spinning bikes, combined With an Aquaspeed pedal, has been designed for this pool bike. This dual resistance, unique on the market, boosts effectiveness and performance.
Because of its handlebar's, extremely resistant and more ergonomic, the aqua bike will offer to you the opportunity for practice an intensive and complete sport. Its multipurpose use makes of it a unique piece of equipment. It features the attraction to: group exercise, physical therapy, rehabilitation, personal training and athletic training. With special population it can be utilized for people with limitations due to arthritis, fibromyalgia, previous injury. obesity or those who are de-conditioned. It works well with the conditioned as well as the de-conditioned population.
Why choose the aquabike:
Reliable and resistant in the long run
Made for continues daily use
Adjustable resistance
Completely adjustable frame
Low to no maintenance
Hi technical performance that allows many different applications, aqua -spinning, circuit training, personal training and rehabilitation.
equipment list:
1.Saddle
2.Stator
3.Seat Tube
4.Nut M6
5.Turn Adjustment
6.Nut M22
7.Copper Nut
8.Pedal
9.Handlebar
10.Central Frame
11.Tightening
12.Pedal support
13.Front Runner
14.Back Runner
15.Sucker Runner
16.Nut M8
17.Wheel
18.Wheel Support
19.Screw M8